Solving complex problems across the agriculture value chain
Building a global real-time ag-ecosystem intelligence platform
Seed Production
Companies
Food Processing
Companies
Helping customers unlock value with
Digitization and AI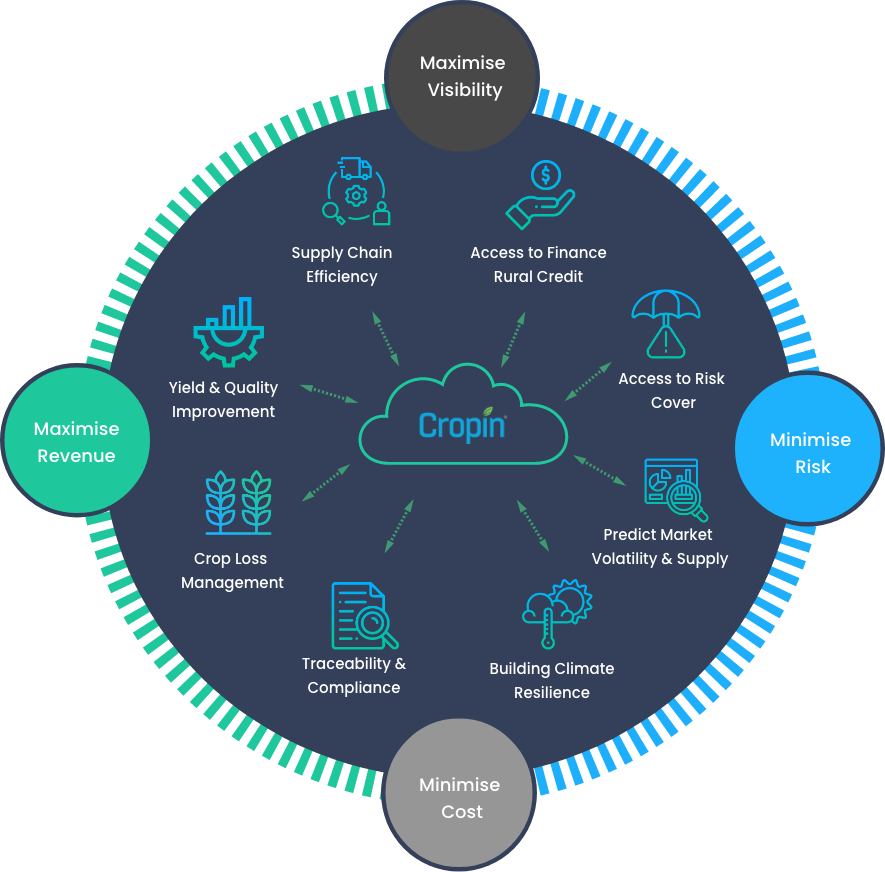 Cropin Grow (SmartFarm Plus)
A farm monitoring and management solution to help you geotag your farms, digitize farm/farmer records, share advisory, monitor crop productivity, improve farm efficiency, and boost field officer productivity.
Cropin Connect (AcreSquare)
Easy-to-use, seamless communication application that supports your digital farming initiatives. It helps connect growers, agri-businesses, and field officers to digitalize farm operations.
Cropin Trace (RootTrace)
QR code-enabled farm-to-fork traceability solution to track and meet quality benchmarks. Eliminate counterfeiting and ensure that everyone involved in bringing food to our table is recognized and rewarded.
Enabling the agri-value chain
Digitize every farm | Trace food produce | Predictive Intelligence to enable decisions
16 million Acres of farmland digitized
Working with over 250+ clients
Benefiting 7 million farmers across the globe
92% Score of adaptability
16 million Acres of farmland digitized
Working with over 250+ clients
Benefiting 7 million farmers across the globe
92% Score of adaptability
Cropin Cloud - Introducing World's First Intelligent Agriculture Cloud
Cropin Intelligence
AI/ML models to process/extract critical intelligence that enables decision making on and off the field
Cropin Data Hub
Raw and processed ingest data pipelines of structured agri-data from the field via apps, IoT devices, mechanization data, weather, remote sensing data from satellites through a common object model
Cropin Apps
An integrated suite of applications enabling the digital transformation of human effort intensive on-field complex operations and scouting processes